Yesterday I finally got the 7.6' Blackberry Playbook on hand, and the first thing I did was connecting it to PC to transfer videos to Playbook.
It took quite a while to boot up BB Playbook, I must say. But I do appreciate that RIM make it so easy for users to transfer files to Playbook- simply connect Playbook with PC via USB connection and follow the popup message to install the Blackberry Device Manager.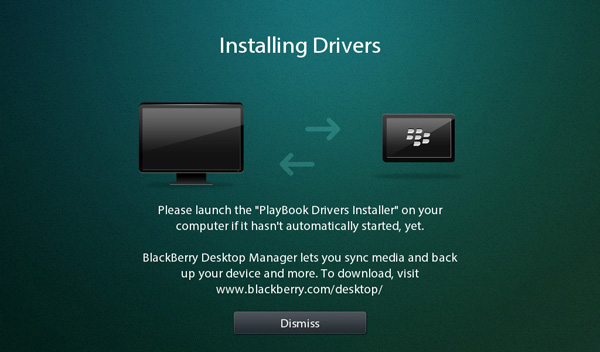 I thought I would have to download a BB Desktop Manager but it turned out that the Device Manager Setup was already there. This is really user-friendly, much more than considerate Samsung at least- it took me quite a few minutes to search Samsung Kies for syncing files to Galaxy Tab a couple months ago.  When the Blackberry Device Manager is installed properly it told me to reset computer before I could transfer files to Playbook. So I did. When restart PC, I find that the Blackberry Device Manager is added to boot Windows startup. But this time I was able to open the Playbook directory. Seems like the computer recognized it as an external HDD.  So I find the Music folder, and drag and drop my favorite albums to the Music folder. Then I press the "Dismiss" button on Playbook and disconnect Playbook with PC.  The music (mostly m4a and mp3 audios) plays fine on Playbook.  I noticed that AAC 5.1 surround sound is listed as a supported file type, but I'll leave it next time.
A more formal workflow for syncing files to Blackberry Playbook (quote from Blackberry Support Center):
Connect the BlackBerry PlayBook to the computer via USB cable.
If BlackBerry Device Manager is not yet installed, the BlackBerry PlayBook will display a screen entitled Installing Drivers.
On the computer, double click the BlackBerry PlayBook CD drive icon.
Open the Drivers folder.
Double click Setup.exe.
After selecting the appropriate region and accepting the License Agreement select Install.
Select Finish and then OK to the prompt confirming that the PlayBook will need to be disconnected and then reconnected prior to use.
Once reconnected to the computer, the BlackBerry PlayBook will be mounted as a Network Drive labelled PlayBook [PIN: 500AAAAA].
Double click the network drive icon to access the PlayBook folders.
Anyway, how does Blackberry Desktop Manager differs Blackberry Device Manager?
Related Posts
[Support] Blackberry Playbook Supported Media Format (from Blackberry Support)
[Solution] Put Video/DVD/Blu-ray movies to Blackberry Playbook
[Guide] Create a Best Format for Converting Videos to BlackBerry Playbook
[Test] Is it possible to play H.264 MKV video on Blackberry Playbook?
[Tips] Five Tips for customizing your BlackBerry PlayBook